President's Message
Kodava Samaja, Bangalore is the "AIYNEMANE" for Kodavas in Bangalore and has a great history indeed . Today Bangalore Kodava Samaja has a Royal standing beckoning the Kodavas world over.
On behalf of the office bearers & commitee members of Kodava Samaja ,Bangalore. Welcome to our community website.
Please explore the site thoroughly to discover all that it has to offer!
President
Karavattira T Pemmaiah
Welcome
The kodava samaja of Bangalore is like an Aiynemane for about 40,000 kodavas of Bangalore. It has become a common meeting place for the kodavas from different parts of Bangalore.

The Kailpod, Puthari and Cauvery Sankramana festivals draw a huge gathering every year. There is stiff competition among kodavas to receive awards and felicitations from the Bangalore Kodava samaja, for all their achievements be it in education, sports or any other field, during Kailpod celebrations every year.

Bangalore Kodava samaja earlier called as Coorg Association, which had just about 30 members in the year 1911, today has 10,000 plus registered members.
Affiliations
Sree Cauvery School
Sree Cauvery School at Indiranagar stands both as a symbol of integrity and also as a tribute to the Kodavas as an enlightened community with an immense love and respect for education.
Kodava Samaja Sports and Recreation club
Established in 1987 by Kodava Samaja Bangalore, the club offers various facilities to members, family and guests in its location at the Annex building of Kodava Samaja complex.
Sree Cauvery Sauharda Credit co-operative ltd.
Sree Cauvery Sauharda Credit co-operative ltd offers credit facilites to the member of Kodava Samaja. The facilities include Personal Loan, Vehical Loan...
Events
Pombolak News Letter
Download Latest Issue of Pombolak News letter Published by Kodava Samaja Bangalore.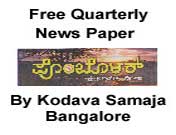 Contact Details
KODAVA SAMAJA ®
#7,1st Main ,Vasanthnagar,

Bangalore-560052

Tel: 22260188 / 22351088


Email ID:
kodavasamajablr@gmail.com
URL:
www.kodavasamajabangalore.org